Poachers Pantry of Murrumbateman is nestled in the hills just a 30 minute drive from Canberra. It is a small, family run business that is driven by a passion for good food, wine and the love of sharing it with friends and family. From simple beginnings as an artisan smokehouse, they have grown to include the Smokehouse Restaurant, the Wily Trout Vineyard, Farm Shop, Cellar Door, country wedding and event destination. The restaurant's menu revolves around the smoked meats made on the property and the wines from its vineyard!
---
Andalusia Tomato and Prosciutto Salad
---
What will you need?
INGREDIENTS:
1 Baguette (cut into cubes and toasted in the oven)
4 Roma tomatoes
100g pine nuts (toasted)
1/4 bunch basil (torn)
1 70g Poachers prosciutto
200g roquette
50g Feta or goats cheese crumbled
Sesoning (olive oil and balsamic)
---
Get cooking!
METHOD
Preheat oven to 375°
Cut baguette into squares and pop in oven for 8 – 10 minutes
Dice up tomatoes
Tear up basil
Crumble the feta or goats cheese
Cut up the pine nuts
Tear off roquette leaves
Add in the prosciutto
Assemble all ingredients
Add seasoning
For a quick 8 second video on how to do watch below!
---
We suggest the accompaniment of the Wily Trout Pinot Noir for this dish!
---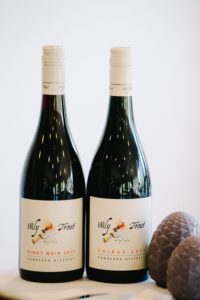 Thank you Susan for sharing this fantastic recipe with us!
You can purchase the Wily Trout Pinot Noir at their Cellar door, or online.
Enjoyed Susan's recipe? Let us know at tourism@yass.nsw.gov.au