Whether you are looking to dine out this Valentine's Day or searching for that special something to enjoy in the comfort of your own home – we have compiled a list of ideas to help you share the love!
This Valentine's Day, the team at Brindabella Hills Winery have created a special menu which offers an assortment of delicious dishes with three paired wines for $149 per person. From 6pm, you can enjoy your carefully prepared offerings whilst taking in the breathtaking views of the beautiful mountain ranges to the west of the winery.
Located in the beautifully refurbished 1865 Royal Hotel, Grazing is an award-winning restaurant with a focus on the Canberra District's very best produce and wine. This Valentine's Day, Grazing is opening its doors from 6 pm for a special 4-course dinner. For just $90 per person, you can enjoy a canape, entrée, main and dessert whilst relaxing in one of the region's most romantic settings.
Olleyville at Shaw Vineyard Estate

Surround yourself with idyllic vineyards and delicious food this Valentine's Day at Olleyville Restaurant. For $110 per person you can enjoy a glass of Shaw Wines Sparkling Cuvee on arrival followed by a spectacular 3 course sharing menu designed to set the mood and delight the senses. Bookings are essential and filling quickly so make sure to secure your spot!
Murrumbateman Chocolate Co
The
Murrumbateman Chocolate Co
have been working hard to bring you a delicious range of treats for the lovely people in your lives! Available in store now, why not pick up some hand crafted moreish delicacies ahead of Valentines Day, the perfect sweet treat to end your special evening.
Thyme to Taste Emporium
If you are searching for that special addition to your home cooked meal, the Thyme to Taste Emporium is offering Valentine's Gift Boxes. With a bottle of Gallagher's Duet Sparkling and a Murrumbateman Chocolate Co Persian Summer Block, you cant go wrong!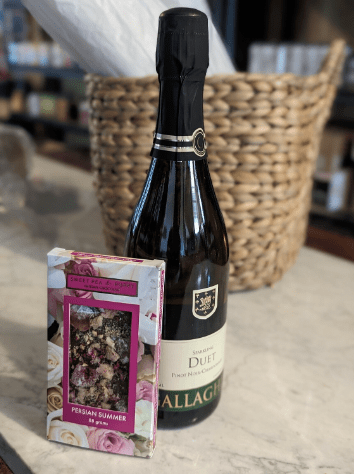 #VisitYassValley #BestoftheCBRRegion #SouthernTablelands