Discover the Indelible Stencils across the Yass Valley Region! 
Indelible: adjective (Oxford, 2020)
(of ink or a pen) making marks that cannot be removed.

not able to be forgotten.
If you have travelled through the valley of Wee Jasper or stopped at the local Yass Valley Information Centre, you would have passed the Indelible Stencil's public art displays, possibly without knowing what this display is about or searching for the sequels.
Experience the unique poetry art trail in the Yass Valley, by following the four contemporary displays scattered across the region!
Background:
In 2014 the final of the Indelible Stencils was erected. The purpose of this project is to bring poetry to public places across the eight local government areas of the Southern Tablelands, supported by STARTS, Southern Tablelands Arts featuring local artists & poets 
Across the Yass Valley Region, there are four stencils to be found. Below are the locations & the authors, so grab your loved ones and experience our local public art displays of the Indelible Stencils.
Clouds – Nicola Bowery
Location: 259 Comur Street, Yass Valley Information Centre. The perfect beginning to your regional arts trail and the perfect poem to open your mind and become intrigued by the context of each poem. Be sure to pick up your copy of the Tourist Drive 7 to follow along your travels.
Devonian – Lizz Murphy

Location: 25km from Yass township along the Wee Jasper Road beside the renowned Taemas Bridge over the Murrumbidgee River. Depending on where you are standing to view the stencil the backdrop is more than photo-worthy, with the historical bridge, limestone belts, running river and rolling hills, be sure to share your photos #YassValley!
Dawn – Jane Baker
Location: 29km from the Taemas Bridge and the Devonian Stencil, along the Wee Jasper Road, headed towards Wee Jasper Village. Positioned on the right-hand side, with exceptional views of the Wee Jasper valley & the backwaters of Burrinjuck at the base of the Brindabella Mountains.
No Clocks Here – Russel Erwin

Location: 2km from the Dawn Stencil on the Wee Jasper Road, in the heart of Wee Jasper Village. Discover this stencil and take your time to stroll the historic village of Wee Jasper, all private residence but the history remains of this once bustling village.
#VisitYassValley #BestoftheCBRRegion #CBRTablelands #EscapeToYassValley #ShopLocal #YassWeAreOpen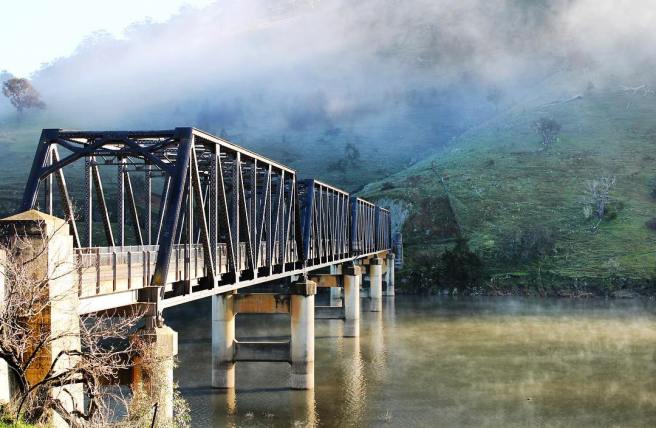 Yass Valley Information Centre
Taemas Bridge
Wee Jasper Lookout
Wee Jasper Bridge