Honey is a sweet, golden, thick liquid made by bees that has been used as both food and medicine for thousands of years. The flavour of honey varies based on the types of flowers from which the nectar was harvested from. In Yass Valley, we are lucky to have our own honey businesses producing this liquid gold for us to enjoy!
Did you know that if the queen bee dies, the worker bees can create a new queen bee? They do this by selecting a young larva and feeding it a special food called 'royal jelly'. This helps the larva to develop into a fertile queen!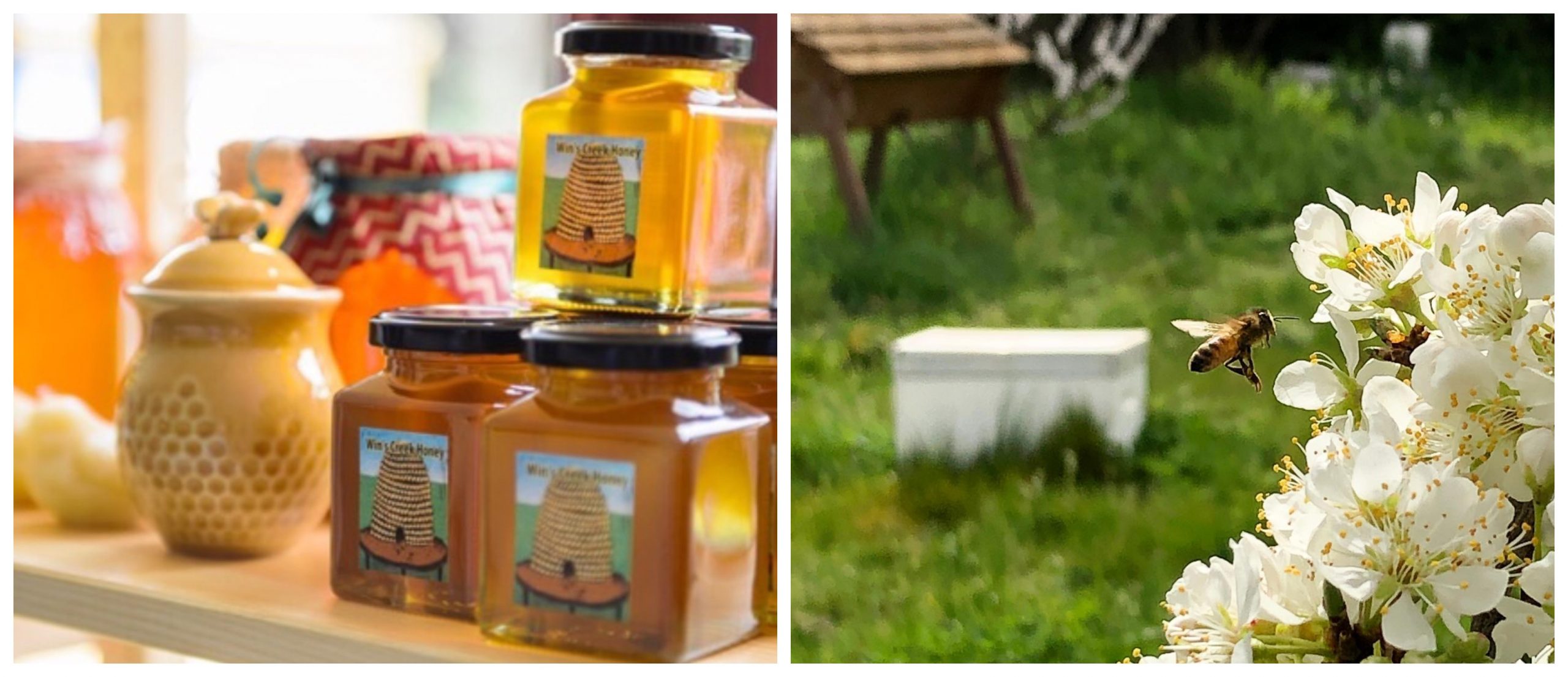 Michael and Maryanne of Wins Creek Meadery say that their passion for bees was born from a love for animals and the richness of the natural environment. Their bees are moved all around NSW from the South Coast to the Snowy Mountains producing honey from species such as spotted gum, stringy bark, lavender, and yellow box. They also produce small batches of some of Australia's finest handcrafted mead! You can visit their bee-spoke gift shop to browse and purchase handmade ceramics, beeswax candles, and of course honey.
Wins Creek Meadery is also the home to Bindaree Bee Supplies who have been serving the beekeeping community since 1979. They source the best quality equipment including Australian-made boxes, frames, foundation, and protective clothing – if you are interested in starting beekeeping, Michael and Maryanne are happy to answer any questions you may have along the way!
Chris and Tara of Queen of Hearts Honey Co. are proud to be a first-generation beekeeping family. Having a background and experience in rural science and business development, they combined their passions and found their sweet spot of sustainable beekeeping in 2012 with just two beehives.
With now over 200 hives, they produce high quality, raw, and 100% Australian honey. Their honey is potted by season which helps to provide delicious new flavours with each season. They are excited to be raising their young family in an environment where they can grow their appreciation for agriculture, the environment and be a part of the Queen Of Hearts Honey Co. business.
Fairways Honey
Sue of Fairways Honey started beekeeping with her husband over 13 years ago when they lived in sunny North Queensland and it has since become a "hobby gone berserk". Together, they moved to the Yass Valley in 2012 and have continued beekeeping with just 4 small beehives in their back yard.
Three years ago their bees, that Sue refers to as "the girls", produced over 100kg of honey so they had no choice but to start selling their honey at different outlets. Their bees typically produce "BOB" honey, or "bees own blend", however, their most recent batch was influenced by the Paterson's Curse in the surrounding fields which have made for lighter honey with a floral taste. Sue's husband has also been an active participant in setting up the local beekeeping club which has an apiary at Cooma Cottage.
#VisitYassValley #BestoftheCBRRegion #CBRTablelands