Hop to it with this easy to make hot cross buns recipe!
Homemade = a bucketful of love! 
---
HAPPY EASTER
---
What will you need?
INGREDIENTS (FOR BUNS)
40g butter
300ml milk
pinch of sea salt
4 cups plain flour
1 1/2 cups currants
2 eggs lightly beaten
1/4 cup caster sugar
2 x 7g sachets dried yeast
1 1/2 teaspoons mixed spice
FLOUR PASTE (TO MAKE THE FAMOUS CROSS ON TOP OF THE BUNS)
1/2 cup plain flour
4 to 5 tablespoons water
GLAZE (TO MAKE IT EVEN MORE DELICIOUS)
1/3 cup water
2 tablespoons caster sugar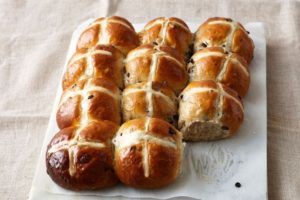 Get cooking!
Making the Buns
Step 1 – Combine the flour, yeast, sugar, mixed spice, salt and currants in a large bowl. Melt butter in a small saucepan over medium heat. Add milk. Heat for 1 minute, or until lukewarm. Add warm milk mixture and eggs to currant mixture. Use a flat-bladed knife to mix until dough almost comes together. Use clean hands to finish mixing to form a soft dough.
Step 2 – Turn dough out onto a floured surface. Knead for 10 minutes, or until dough is smooth. Place into a lightly oiled bowl. Cover with plastic wrap. Set aside in a warm, draught-free place for 1 to 1 1/2 hours, or until dough doubles in size.
Step 3 -Line a large baking tray with non-stick baking paper. Punch dough down to its original size. Knead for 30 seconds on a lightly floured surface until smooth. Divide into 12 even portions. Shape each portion into a ball. Place balls onto lined tray, about 1 cm apart. Cover with plastic wrap. Set aside in a warm, draught-free place for 30 minutes, or until buns double in size. Preheat oven to 190°C or 170˚C fan-force.
Making Cross
Step 4- Mix flour and water together in a small bowl until smooth, adding a little more water if paste is too thick. Spoon into a small snap-lock bag. Snip off 1 corner of bag. Pipe flour paste over tops of buns to form crosses. Bake for 20 to 25 minutes, or until buns are cooked through.
Making the Glaze
Step 5 – Place the water and sugar into a small saucepan over low heat. Stir until sugar dissolves. Bring to the boil. Boil for 3-4 minutes. Brush warm glaze over warm hot cross buns. Serve warm or at room temperature.
Final Step 
EAT, SHARE, MAKE MORE AND REPEAT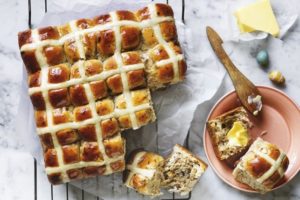 Enjoyed this recipe? This is a personal favourite of mine, that I discovered last Easter on @Taste.com.au