Christmas and New Years Closures in the Yass Valley
---
Below is a quick guide to the open and available attractions this Christmas and New Years.
This guide includes cellar doors, dining experiences, shopping outlets, museums and much more!
To find a comprehensive list please click here.
For any enquires please ring the Yass Valley Information Centre on 1300 886 014.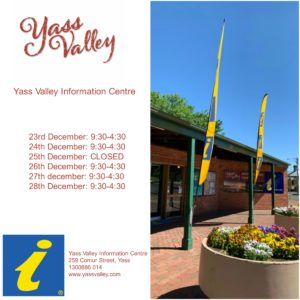 Merry Christmas and a happy New Year from the team at Visit Yass Valley.
---
DISCLAIMER: this is not all of the businesses in Yass Valley – this is a list of local businesses who have advertised/contact us in regards to their opening hours.