Cafe Vieux of Yass NSW is located in a 120 year old french ballroom surrounded by picturesque gardens and a unique building that cannot be replicated or found anywhere else in the state.
They offer exceptional service and food made to order. With their team of highly trained, knowledgeable staff, they promise you an unforgettable experience.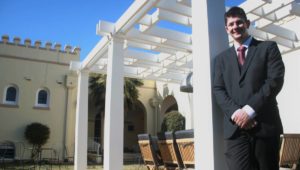 ---
Orange and Almond Cake (Gluten Free)
---
What will you need?
INGREDIENTS:
2 Oranges
6 Eggs
250g Castor Sugar
1tsp Gluten Free Baking Powder
250g Almond Meal
---
Get cooking!
METHOD
Gently simmer the oranges fr 1 hour( change water after 30 minutes to remove bitterness)
Remove the oranges and let cool to room temperature
Leave the skin on he oranges and cut into quarters.
Blend the oranges until smooth ( about 20 seconds ) and set aside.
Preheat oven to 160 °C
Beat the eggs and sugar together. Ad baking powder and mix.
Add almond meal and oranges . Gently mix until all ingredients are combined.
Pour into a 20″ spring form pan and bake for 60 minutes
---
Thank you Katrina  for sharing this fantastic recipe with us!
Enjoyed Katrina's recipe? Let us know at tourism@yass.nsw.gov.au
---