Dine with Wine – Beef Cheeks with McKellar Ridge Pinot Noir.
McKellar Ridge of is a 5 star boutique winery producing award winning handcrafted wines and is owned and operated by John and Marina Sekoranja. McKellar Wines are carefully nurtured from grape to glass, our wines exhibit the unique characteristics of the Canberra cool-climate region.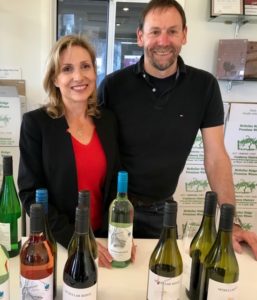 ---
Beef Cheeks with McKellar Ridge Pinto Noir
---
What will you need?
INGREDIENTS
1kg beef cheeks
1/4 cup extra virgin olive oil
2 cloves garlic roughly chopped
Rind of 1/2 orange , peeled in strips
4 bay leaves     
2 sprigs rosemary
2 – star anise
1 cup McKellar Ridge Pinot Noir
1 leek thinly slice
2 celery stalks roughly chopped
2 Carrots diced
3/4 cup Beef Stock
3/4 cup of diced Italian tomatoes (fresh or canned)
Fresh finely chopped parsley and McKellar Ridge Wine to serve
---
Get cooking!
METHOD
Marinate the beef cheeks in half the olive oil, garlic, orange rind, herbs and spices in a refrigerator for 4 hours or overnight. Remove beef cheeks from marinade and season with black pepper.
Preheat oven to 120°C.
Add remaining olive oil to a frypan and saute leeks, celery and carrots over a medium high heat for 3-5 minutes to brown. Transfer vegetables to an oven proof heavy based casserole dish.
Add beef cheeks to frypan and brown each side at a medium high heat for five minutes. Remove and place in casserole dish containing the leek, celery and carrot.
Add McKellar Ridge wine to frypan and deglaze at medium high heat for 3 minutes, reducing wine by half. Pour reduced wine over beef cheeks in casserole dish. Add beef stock and tomatoes and cover casserole dish with lid or foil.
Place casserole dish in pre-heated oven for 2 hours. Remove and turn cheeks before cooking for another 1 hour or until beef is tender and falling away with a fork. Garnish with parsley.
Serve with creamy mashed potatoes, steamed green beans and a generous glass of aromatic McKellar Ridge Pinot Noir.
---
Thank you John and Marina for sharing this fantastic recipe with us!
Enjoyed John and Marina's recipe? Let us know at tourism@yass.nsw.gov.au