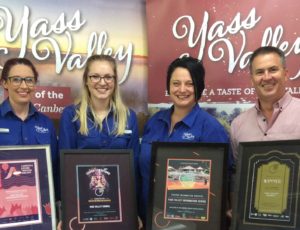 Destination Marketing Officer Position
Closing date: Monday 29 January 2018 – 4:00pm
Yass Valley Tourism is seeking a motivated individual to be part of a fun and enthusiastic team, responsible for promoting Yass Valley as a must visit destination. The successful applicant will be a people-person, who is passionate about providing high quality customer service. Experience in social media, video creation and photography skills, as well as willingness to learn and develop new skills is essential.
The successful applicant will be responsible for a range of customer service and retail management duties. Other responsibilities include content generation for social media platforms, print and website; including written copy, videos and photos. Developing and maintaining positive relationships with industry partners and assisting with Destination Marketing projects is essential in this role. All responsibilities will be conducted under the guidance and support of the Destination Development and Marketing Coordinator.
Ideally applicants will possess sound administrative, interpersonal and communications skills. Attention to detail is a must. A background in tourism and/or marketing will be highly regarded. A Responsible Service of Alcohol Certificate (or a willingness to obtain one) is essential for this position.
Yass Valley Tourism is offering a fun and nurturing work environment, with an opportunity for the successful applicant to grow and develop their marketing skills.
Salary:
Grade 6 Entry $26.9751to Grade 8 Step 3 $30.6086 per hour.
A 25% weekend penalty applies for work on Saturday and 50% for work on Sunday.
Conditions:
Permanent part-time position
Roster includes working 28 hours over four days per week, from Sunday to Wednesday.
Contact:
Natasha Maguire, Destination Marketing & Development Coordinator (02) 6226 9257
Position Description:

Destination Marketing Officer Position Description

How to Apply:

Please read the position description containing the key selection criteria which must be addressed as part of your application.
In addition to your written application, a 30-90 second introductory video must be submitted to Natasha.Maguire@yass.nsw.gov.au  via a link to an online channel such as Dropbox, YouTube or Vimeo and should including the following information:

Your name
Where you are from
Why you would be perfect for the role
Three places you would take visitors in Yass Valley and why

The video must be accessible to members of the selection panel; therefore it must be viewable via a link, with applicable permissions.

Please acknowledge in your application cover letter, that you understand the position requires you to work the following days per week.

** Sunday to Wednesday – Work hours are 9am – 4:45pm including an unpaid 45min lunch break **

Submit your written application ONLINE