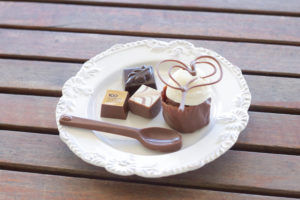 Congratulations to Yass Valley's very own Robyn Rowe of Robyn Rowe Chocolates who has received a special invite to accompany a select group of Australian Chocolatiers, Pastry Chefs and Chefs on a customised Cocoa Plantation Tour of Ghana with F.Mayer and Callebaut.
As the market leader in high end couverture supply to the Australian market, F.Mayer/Callebaut strongly believe that the best way to truly understand Chocolate, is to firstly understand where it comes from and the entire agriculture industry behind the humble cocoa bean. F.Mayer/Callebaut recognise their responsibility to educate customers on all things chocolate and do so by providing them with the opportunity to see first-hand how the cocoa bean is cultivated, harvested and processed.
Guests invited on the 'once in a life time opportunity' tour will learn why cocoa from Ghana is recognised as highest quality and the respect the Ghana people have for growing good quality cocoa beans and gain an understanding of the importance to the economy of cocoa growing nations.
'To gain a special invite, the person will be someone that has shown , a true understanding of Callebaut, a passion for chocolate, a love for the industry and someone who gets a very real satisfaction out of what they do. The person will be someone who is always willing to learn more, push themselves to create interesting and innovative chocolate ideas, a person we know will bring the knowledge they have learnt, back to their place of work and share it with staff, customers and the wider public.
The above goes part of the way to describing Robyn Rowe who we have had the pleasure to see come into the industry a complete novice and strive to be a leader in her field. Robyn was on top of the 'special invites' list' – F.Mayer/Callebaut representative states.
You can taste and purchase Robyn Rowe's delicious hand made chocolates right here in Yass Valley at Robyn's purpose built Chocolate shop in Murrumbateman.
 10am – 5pm Thursday to Monday
1153 Nanima Road, Murrumbateman
Phone 02 6227 5064