IRISH & CELTIC MUSIC FESTIVAL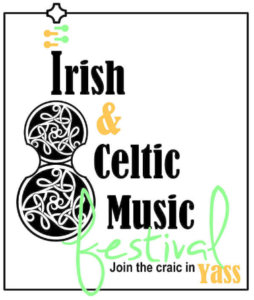 The Irish & Celtic Music Festival will be held on the weekend of the 13th , 14th and 15th September 2019 .
Yass is the ideal location for a music festival, set in a delightful rural valley, with a heritage rich in Irish and Celtic beginnings. A mostly walking precinct sets the scene in the centre of town for music, poetry, dance, Celtic markets and good CRAIC, in unique venues, many serving an excellent variety of food, great coffee and liquid refreshments to suit all. Historical buildings will surround you, with beautiful parks to enjoy. As the third oldest town in NSW, it has lots to offer, especially the wonderful community.
There is much to celebrate in this pretty rural town. Yass is the third oldest town in NSW with a history of early settlement by Irish settlers , as well as young women displaced during the time of The Great Potato Famine, making Yass their forever home.
For a copy of the press release, click here
For a copy of the dance program, click here
For a copy of the poetry program, click here
---