Article and images by Yass Valley guest Online Influencer Fran Tapia
The Yass Valley is an extensive area in the Southern Tablelands Region of New South Wales.  There are quite a few people that commute daily to and from the Yass Valley to Canberra; after all, it is less than an hour's drive via the Barton Highway.
For me, I have always associated the Yass Valley with the Murrumbateman wineries (my favourite red is from this area), and the gorgeous yellow canola fields that tell me spring has arrived.
So, finding out that there is more to this area than wines and beautiful landscapes was an exciting discovery.
Our exploration of the area took us to Binalong; a town just 37 kilometres North-West from Yass itself.  Binalong is home to about 450 residents, although the locals tell me it is closer to 600 since the last census in 2011.  This was also home to a young Banjo Paterson, and his father is buried in the local cemetery.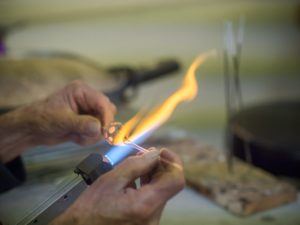 The main reason for our visit to Binalong though is to call into Peter Minson's Art Glass gallery and studio.  Peter, a third generation glass blower, moved to the area 20 years ago and has been creating artistic and functional pieces in his studio since then.
As we enter, I can't help but smile.  The gallery is filled with glass; from animals, to jewellery, to glasses, to teapots – every item carefully handmade.
Before we start our workshop, we sit down for a cup of coffee (poured into glass cups made by Peter), and we chat about what we are going to do in the workshop.
Peter is thorough.  He explains the properties of glass and the importance of safety as we will be using a live flame and heating glass to melting point.
Once we are properly caffeinated, we don on the safety glasses, and Peter begins to visually explain how to blow glass.
I am mesmerized as he twirls a glass blowpipe and gives it shape.  Each step described in detail so that we understand what is happening to the glass and how he is able to form a vacant, expanding space within it.  He shows us how to add colour to the glass, and how to bond this to the clear base.  From a relatively shapeless piece of hollow glass, he is able to create a pot, perfectly functional and visually beautiful.
Soon it is my turn.  I feel a sense of giddy excitement come over me, much like a 7 year old has when presented with a cake made just for them, and I have to calm myself to ensure that I remember the safety instructions.  Peter is by my side every step of the way and this gives me a confidence that is hard to describe.  As I clumsily twirl the glass blowpipe over the flame, I feel the glass become pliable and I carefully blow through the air vent to expand the glass.  In a way it reminds me of blowing a balloon, although you do not need as much air force, or air to make the cavity expand.
My final glass pieces barely resemble Peter's creations – they are certainly functional, and look like glass containers, just not the straight off the shelf variety.
Peter offers private lessons and small group workshops that cater for all types of abilities, and if you are in the area, pop in for a coffee, browse the gallery and see him work his magic in his studio.
After filling our car with glass items, we head down to Bowning, just 20 minutes down the road.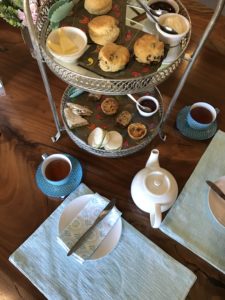 We are warmly greeted by Coxy at Mayfield Mews; a cafe, garden centre and store established in the historic precinct of Bowning and operating out of the original coach house and stables next door to Mayfield House.
Coxy is a fountain of knowledge of historical facts about the area and has a lively way of narrating the stories of the region.  He tells me that the Mayfield House was home to Henry Lawson between 1899 and 1913, and that he was the first non-politician to be afforded a state funeral in NSW.
The Coach house and stables are an Aladdin's cave filled with home décor, kitchen wares and a range of jams and condiments. I want to take everything home; from the long warm blankets, to the bamboo plates, to the decorative chickens.
We are seated at a large table overlooking the window, and two places have been set for us.
We are here for their High Tea and we start with the savoury.
Pork, fennel and orange sausage rolls and mini quiches are matched with a locally made tomato relish.  My favourite are the chicken sandwiches; delectable bites on seeded bread.
I call scones the 'in-between' dish of a High Tea – they can be savoury or sweet depending on what you add to them.  Served with home-made jam, fresh double cream and butter; I opt to have half savoury, half sweet.
The sweet offerings include mini lemon tarts, chocolate mousse, almond macaroons, and chocolate slice.  I love the fresh seasonal fruit cocktail as it provides a refreshing end to the spread.
I am impressed that everything is '100% home-made'.  Coxy himself makes the sausage rolls and scones, and everything that is not made by him is sourced from local community members.  For me, this is a detail that makes Mayfield Mews' High Tea stand out, and because of this detail, you do need to book ahead if you are planning to enjoy the High Tea like we did; he ensures that everything is fresh and places orders according to bookings.
By now it is mid-afternoon, and we head to our accommodation for the night – Tully's Bed and Breakfast.
Right off the Hume Highway, about 10 minutes from Bowning, we turn into the driveway of Tully's B&B.  The white picket fence surrounding the entrance adds character to the property and is a great marker to find the property as you drive west.
We are greeted by Fiona, and are soon joined by her husband Alan.  The Bed and breakfast has been operating since December, and you feel genuine warmth from them. This is their family home, where their children grew up, and I feel like I am visiting friends from the moment I step into their home.
Their four guest rooms have recently renovated en suites, air conditioning and televisions, and my favourite feature are the French Doors leading out to the veranda.  The property is so picturesque; 350 acres of trees, dams, creeks and paddocks.  They have chickens and cows that roam the property at their leisure.
I find myself imagining what it would be like to be here in winter – early mornings as the fog rolls over the hills in the distance, and the sun comes up to warm the green fields, and you overlook the scenery wrapped in a warm blanket while sipping a hot cup of coffee or tea.  I also imagine myself drinking a glass of red wine in the evenings while sitting close to the fire in the lounge, and I start making plans in my head for my return in the cooler months.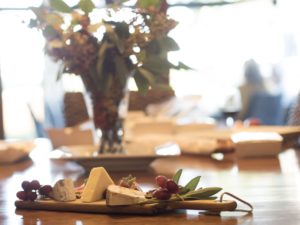 Lee-Ann and Andrew from Thyme to Taste, the delicatessen and cafe located in Yass, have organised a picnic for us for dinner, and given the generous amount of food, we ask Fiona, Alan and their two other guests to join us.
All their produce has been sourced within the region.  They look for small producers whose values match that of their business and who take pride in the foods they produce.
We share three types of cheeses; a Berry's Creek Buffalo Milk Blue, a Flinders Estate Ash Brie and a Maffra's Stockman's Cheshire.  They are complemented by a locally produced onion jam, and an array of fresh figs, grapes and plums grown in the area.  The antipasto platter has smoked meats from Queanbeyan, olives from Hall, and a substantial amount of roasted vegetables.  They have also included a deliciously moist chicken terrine made in Harden, and Snowy Mountain smoked trout.  These are accompanied by a delicious potato salad.
The scrumptious food is a catalyst for an evening of conversation, good wine and a beautiful sunset.  Eventually, sleep beckons and I make my way to my room.
In the morning, the smells of warm croissants and coffee lure me away from my comfortable bed. I start the day with a continental breakfast that includes home-made jams and will keep me satisfied until our return to Canberra.
Overall, my weekend exploring the Yass valley have led me to discover some fine gems and I am pleased to say that these will be added to my regular visits to the district.
I was invited by Yass Valley Tourism to visit the district and to undertake the activities organised by them.  I travelled in a private vehicle at my own expense, and was not paid for this post. Gifts and purchases made were also at my own expense. All opinions and feelings are my own.