With the searing summer heat behind us, it's a great time to get out and enjoy the glorious autumn weather. It's a wonderful time of year to feed your inner nature lover with a camping trip in Yass Valley.
Yass Valley is located in the Southern Tablelands of NSW. Just 45 minutes from Canberra and three hours from Sydney. The tourism experiences on offer include gourmet food producers, world-class wineries, artisans and makers.
The region is also a great place for natural experiences in the outdoors. Stay in one of the many gorgeous B&Bs or quality hotels,  after enjoying the delights of the region. Or grab your tent and embark on an outdoor adventure, sleeping under the stars at one of many great campsites available across Yass Valley.
A small picturesque village is situated on the beautiful Goodradigbee River. The area boasts beautiful recreation reserves and is a popular spot for adventure sport as well as caving at the famous Careys Cave.
In the height of summer, the shallow fresh waters of the river remain shaded throughout most of the day. Choose from five bush reserves on the banks of the Goodradigbee River and Micalong Creek. Wee Jasper Reserves offer authentic bush camping, walking tracks, waterfalls and a million stars. Just drive in and set up! A small camping fee is payable at the office at Billy Grace reserve.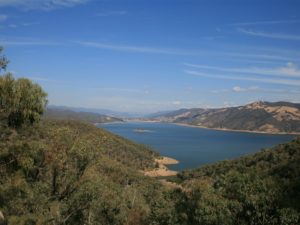 Lake Burrinjuck is a gorgeous area to connect with Australia's wildlife. It is also great for bush walking. At the Reflections Holiday Park Burrinjuck there are plenty of powered and unpowered camp sites. As a bonus visitors can enjoy barbecues, a playground for the kids, tennis courts and beach volleyball. The park is full of wildlife including kangaroos, wallabies, wombats and echidnas, as well as countless native birds.
Good Hope Resort is another great option with powered and unpowered camping sites. Good Hope is surrounded by farming properties and is also located on Lake Burrinjuck. Facilities include a swimming pool, tennis court and hot showers.
So why not consider a camping holiday and experience a genuine Australian country experience under the stars.
– Written by Natasha Maguire